Commissioning a Portrait | The Sitters' Perspectives

Emma Wesley explains the importance of telling the sitters' stories and how portraiture is a collaborative process. This really captures the care she puts int
creating a meaningful connection with her sitters so their characters are accurately portrayed in her work.
The best portraits are a collaboration between artist and sitter. I like it when people suggest objects and I tell sitters to bring along as many things as they can. Sometimes I spend time with sitters learning what they do. For my portrait of Professor Andrew Carr, a shoulder surgeon, I actually watched him perform an operation!
The Nisbetts wanted to commission a portrait ('instead of a gravestone' they joked) to hang among family portraits they've inherited. Patrick is a keen researcher of his family's fascinating history. His ancestor is the Genoese Sea Captain who brought the Pope back to Rome from Avignon in the 14th century, so he wanted family crests included in the portrait. There are other clues to the family's cultures – Patrick's tartan trousers and the tartan sofa nod to the Nisbett's Scottish ancestry, the Chinese paintings and objects in the background were inherited from one of Susan's relatives, and her beautiful embroidered coat was first worn to her son's wedding in India. The strong focus on textiles is appropriate as Patrick was a designer of ecclesiastical robes. Susan's interest in the game Bridge is reflected in the cards next to her – which make a playful heraldic nod to the coat of arms on the other side.
These ideas gradually come together during the course of sittings, lunches, conversations and when I'm mulling things over in the studio. Sitters are always welcome to look at the work in progress (although sometimes they choose not to, preferring to wait for the big reveal at the end) and I often send photos to keep sitters updated.
My work has taken me to a variety of places, from family homes across Europe, shops, workshops, farms, hospitals, universities, even to hallowed sporting grounds.  Some artists paint their sitters in their own studio on their terms, and whilst this can make for great figure painting, it can leave the figure decontextualised. I prefer painting people in their environments surrounded by their objects.
Some of the portraits I paint are of people doing their jobs – a butcher in his cold store, a violin maker in his workshop, an academic in her study, but there is often more complex symbolism at play. I painted a married couple, Chris and Uta Frith who are neuroscientists. The portrait shows them in their living room surrounded by objects which are visual manifestations of metaphors explaining the human brain – the brain as a computer, a chest of drawers or a pack of cards. A Chinese bowl from a shipwreck refers to the fact that we know less about the brain than we do about the depths of the ocean!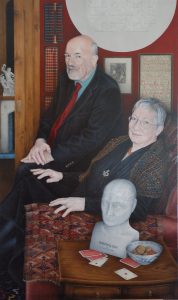 In another portrait of a married couple 'Jane and John – A Portrait of a Marriage,' I used a vase of poppies as they met on Poppy Day and the number of flowers refers to the number of their children and grandchildren. In the Nisbetts' portrait, Susan's 40th wedding anniversary necklace has a strand of pearls for each decade, or each child!
I usually do an initial sketch from life, which I then work up in the studio. I'll return to my sitters for 2 or 3 more painting sessions, concentrating on the face and hands. Details of clothing and background can be finished off in the studio from photos but sitters sometimes come for further sittings in my studio if it's convenient.
I always start a portrait with a careful pencil drawing, – capturing a likeness is just a case of looking and getting the lines in the right place – but it also can be helpful to take photos of a sitter when they're more animated, capturing them smiling, talking and moving. It can also be useful to get the opinion of people who know the sitter better than I ever could – to see if they feel I've captured their true character.
The first drawing sessions are quite intense as I try to get to know the sitters whilst capturing their likeness with only pencil and paper! The painting sittings are more relaxed, as once I've got the basic structure down, I enjoy the colour.
I like when sitters are involved with the whole process, because it's easier to discuss changes along the way. I'm often asked to smooth out wrinkles – I love painting skin textures so tend to exaggerate what people would prefer wasn't. Sometimes I'm asked to change a facial expression if people feel they're looking too severe – but that's the danger of long sittings!
Much has been written about painting – and particularly portraiture – being dead in the age of photography. But a painted portrait does something different; it can be more of a meditation on a person's life than a snapshot of a fleeting moment. In spending time with people and creating a meaningful portrait of them, you can immortalise them, or at least create visual puzzles for future generations to enjoy, just as we enjoy untangling imagery of the Tudor and Elizabethan portraits.
Emma Wesley is one of the many portrait artists who are available to commission a portrait with. For more information on how to commission your very own portrait follow the link and get in touch with Annabel Elton: https://therp.co.uk/portrait-commission/